MRDT4-2 highPROTEC Series
MRDT4 Transformer Differential Protection
The various protective functions of the MRDT4 are specifically tailored to the protection of two winding transformers. The device offers in addition to the differential protection various communication and backup protection functions.
Furthermore the MRDT4 can also be used as a cost-optimized generator differential protection device, where it is even possible to have a step-up transformer integrated into the protection zone.
The protection functions of the MRDT4 have been adapted to comply with the requirements of the VDE-AR-N-4110:2018.
Features
Wide range power supply: 24 … 270 VDC / 48 … 230 VAC

CT measurement always with 1 A and 5 A

Plausibility verification intelligence

Optimized functional overview by hiding unused functions, parameter and assignments

On-board testing without removing the wiring
Applications
Protection of power transformers (HV, MW, LV) against internal phase and ground faults as well as external faults.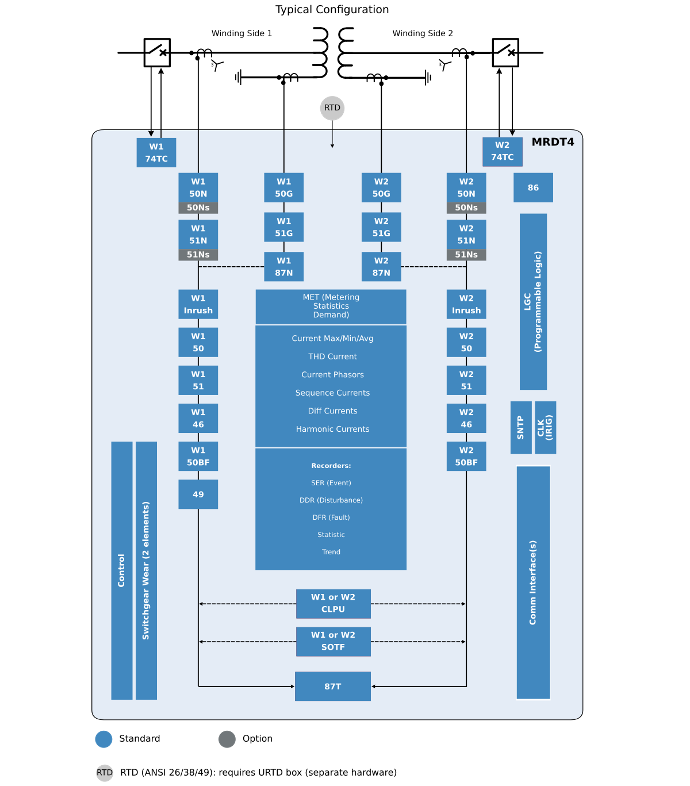 Downloads
Specification

Name
Open

DOK-FLY-MRDT4-2D.pdf

Open

DOK-FLY-MRDT4-2E.pdf

Open

Manual

Name
Open

MRDT4-3.7-DE-MAN_C.pdf

Open

MRDT4-3.7-EN-MAN_C.pdf

Open